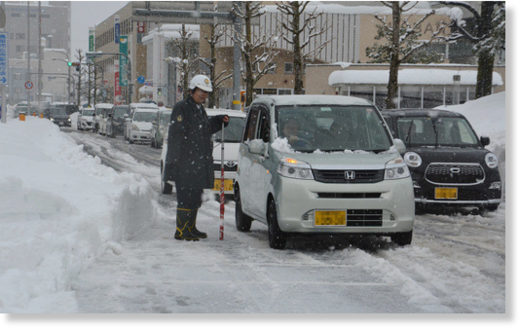 Disruptions from heavy weekend snow continued in Tottori Prefecture and other areas along the Sea of Japan on Feb. 13, a day after a path was cleared for some
250 vehicles that had been stranded on an expressway and national route.The Tottori Prefectural Board of Education cancelled classes at 131 public elementary, junior high and high schools.
It continued to snow on and off in many areas of western Japan along the Sea of Japan coast on Feb. 13 as a result of a wintry atmospheric pattern that has brought the coldest air of the season to the region.
As of 9 a.m. on Feb. 13, the Hyogo Prefecture town of Kami had recorded
194 centimeters of snow

, followed by 134 centimeters in the Yogocho district of Nagahama, Shiga Prefecture, 124 centimeters in Ono, Fukui Prefecture, 75 centimeters in the city of Tottori and 36 centimeters in the Kyoto Prefecture city of Maizuru, according to the Japan Meteorological Agency (JMA).