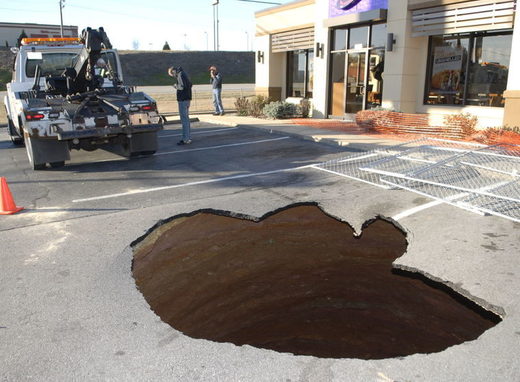 Three tow trucks were used to keep an unoccupied Oldsmobile Alero from falling into a sinkhole in the Taco Bell parking lot near the intersection of U.S. 421 West and Winkler Mill Road in Wilkesboro about 8 a.m. Monday.
Asphalt had collapsed beneath both tires on the driver's side of the Oldsmobile and it was at risk of falling into the hole by 7 a.m. Monday.
Two conventional tow trucks, one at the front and the other at the rear of the Oldsmobile, were used to left up the car while a rollback tow truck was used to pull it in the direction of the passenger's side and onto the flatbed of the rollback.
A spokesman for Champion Towing in Wilkesboro, which had the rollback and one of the other tow trucks on the scene, said the Oldsmobile was removed from the hole without a scratch. The other tow truck was from Southeastern Cars & Parts in Ronda.
People on the scene Monday morning said the hole could easily be jumped across when it first appeared Sunday. It was at least 20 feet deep and the opening in the asphalt was at least 10 feet across by 8 a.m. Monday, but it was even wider immediately beneath the asphalt.