SMART METERS EMF RADIATION CAUSES STRANGE AND UNKNOWN HEALTH PROBLEMS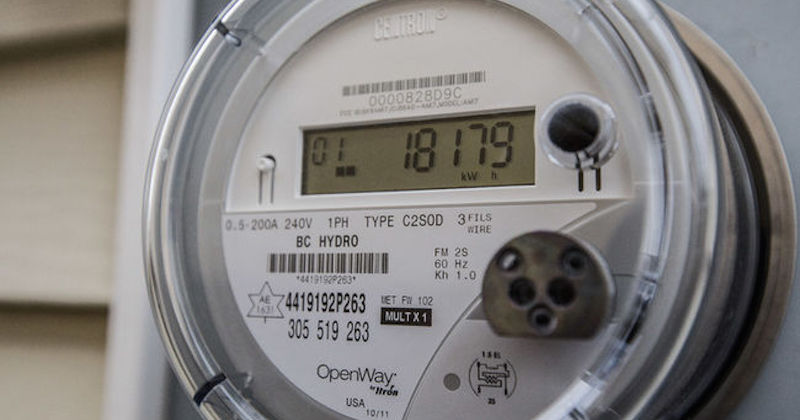 Exposure to smart meters EMF radiation has been reported to cause many strange and unknown health problems. Many of the illnesses caused by EMF radiation have no name. People who are affected begin to lose interest in life, they have lost their zest, enthusiasm and joy. They experience anxiety and depression, not knowing the cause of the symptoms.
WHAT IS A SMART METER?
A smart meter is an electronic device that records consumption of electric energy in intervals of an hour or less and communicates that information back to the utility for monitoring and billing. Smart meters enable two-way communication between the meter and the central system.
Today, many states in the U.S. and many countries in the world are turning to smart meters to record usage of electricity and water. Smart meters automatically send usage information to the utility supplier using radio frequency transmissions, or internet communication method.
Users of smart meters have complained of overcharging and irregularities reported from utility usage. Some reported skyrocketing bills after installation of smart meter, despite using the same amount of electricity prior to smart meter installation.
SYMPTOMS OF EXPOSURE TO SMART METERS EMF RADIATION
There are many disadvantages of having a smart meter installed at your home, and this article focuses on the health side effects of this new technology. Utility companies claim that smart meters are safe, but studies are showing that the meters expose users to high frequency of electromagnetic fields (EMF) radiation that is known to alter human biological functioning.
The
BioInitiative
report, updated in 2012 contains nearly 2000 papers reviewed by 29 international scientists from over 20 countries on the health and environmental effects of electromagnetic fields.
This chart lists reported symptoms after exposure to utility smart meters: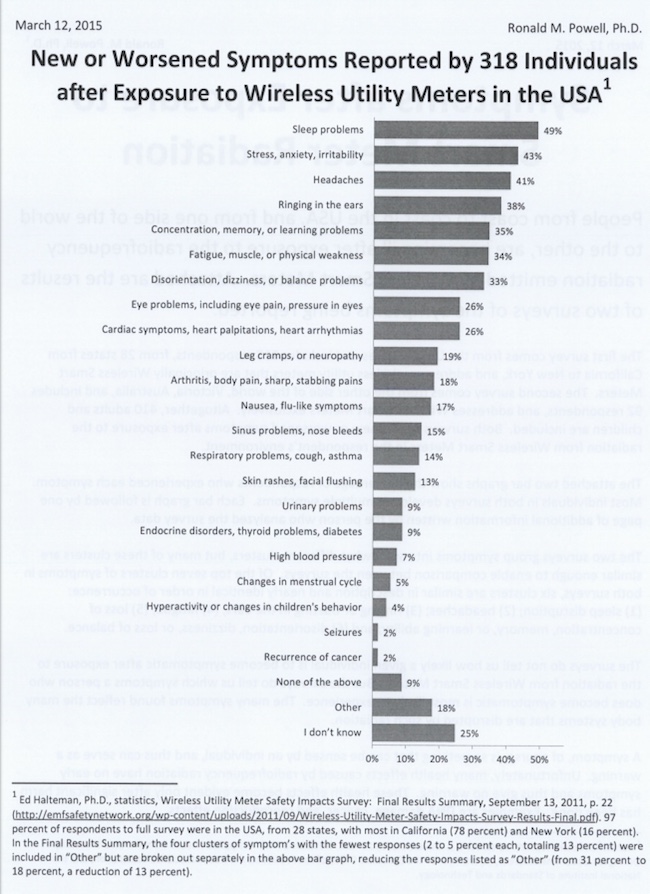 Although the majority of people feel nothing when exposed to EMF radiation, proteins within their cells are being permanently altered and may cause symptoms later in life. The harmful effects are cumulative and can take between 5 and 10 years of exposure to evoke a life-threatening illness.
Watch this video on how your blood cells are altered just within 2 minutes after exposure to close distance smart meter EMF radiation. Imagine the long-term effects!
---
---
Some of the reported symptoms of exposure to smart meters EMF radiation include, but not limited to:
Sleep problems
Stress, agitation, anxiety, irritability
Headaches
Ringing in the ears
Concentration and memory problems
Fatigue, muscle and physical weakness
Heart palpitations and chest pain
Arthritis and other bodily pains
Respiratory problems, sinus, asthma
Endocrine disorders
Seizures
Individuals who are already suffering these symptoms before installation of smart meters may find that with time, the symptoms will intensify after installation of the meters.
WHY DO SMART METERS POSE A THREAT TO YOUR HEALTH?
Many modern chronic illnesses are caused by, or influenced by long-term exposure to sources of EMF radiation such as cell phones, wifi routers, cordless phone base stations, bluetooth devices, baby monitors and other wireless devices that are used every day by modern civilization. However, smart meters are by far, the worst offenders in this list because the radiation is so persistent and powerful.
Utility companies want you to believe that the smart meters only broadcast information once a day or only once every 4 hours. This is not true! They actually broadcast intense levels of radiation several times per minute—non-stop and two ways—up to
190,000 times a day
!
Sensitivity to EMF radiation differs among individuals due to the composition of minerals, density of minerals, electrolytes in the body, and even the body size. The amount of heavy metals in the body serve as "antenna" that responds to the radiation.
Watch this video: How Smart Meters Affect Your Body
REAL EXAMPLES OF HEALTH PROBLEMS CAUSED BY SMART METERS
Below are just a few examples of how smart meters are affecting people's health. These are edited for brevity. You can
read more here
.