Sydney's all-time record was broken when Penrith hit 116 degrees this afternoon!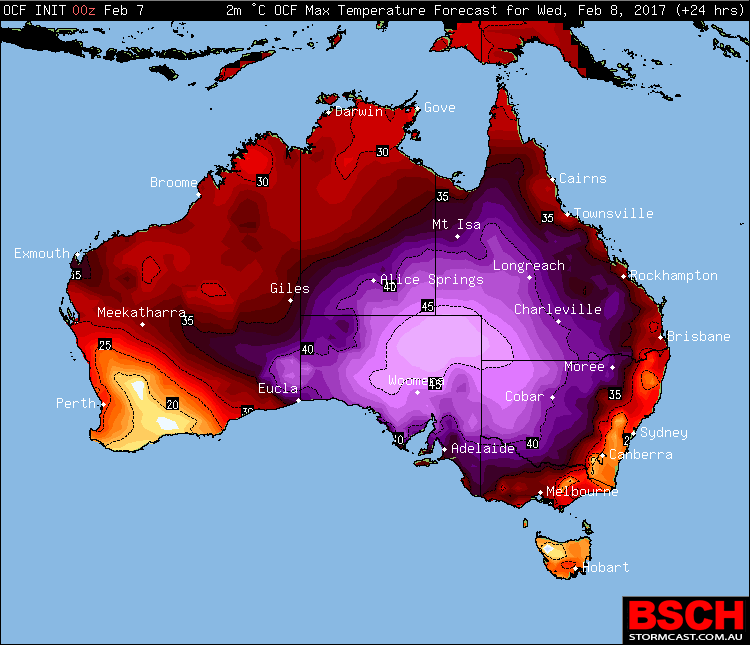 SYDNEY'S record has officially been broken after the mercury hit 47.1 degrees in Penrith on Sunday afternoon, making it the hottest day in the city's history.
According to the NSW Bureau of Meteorology (BoM), Penrith beat Sydney's previous record of 47 degrees, which was recorded in Richmond on February 11, 2017, at 1.55pm today.
But Nine News
reported that the temperature may have reached as high at 48 degrees in Cambelltown, according to an electronic thermometer outside Campbelltown Performing Arts High School this afternoon.
It was the hottest day in five years in Sydney, with temperatures soaring to 46.3 degrees in Richmond, 45.1 in Horsley Park, 44.8 in Holsworthy and 44.5 in Sydney Olympic Park, while the CBD reached a high of 43.4 degrees just after 1pm.
A total fire ban was issued for the Greater Sydney and Hunter regions, while much of the country struggled through the
record heatwave
.
The NSW Office of Environment and Heritage has also warned of higher than normal ozone levels, issuing an Air Quality Forecast alert of poor.
The BoM has also issued a thunderstorm warning, with damaging wind gusts of over 90km/h headed for the ACT and western NSW.
Meanwhile, a teenage girl has been charged with deliberately lighting an "out of control" bushfire which burnt homes in Carrum Downs, Victoria yesterday.
The 15-year-old lit the blaze around 3pm on Saturday. She has since been released on bail and will face the children's court at a later date.
A team of 300 firefighters, 50 trucks and three helicopters worked furiously to save homes from the fire, which has now been brought under control.
However, the NSW Rural Fire Service says 18 fires are yet to be contained across the state.
NSW residents have been warned to protect themselves against heat stroke, ozone pollution and fire dangers as a dangerous "blast furnace" moves across Australia.
Sydney is now the hottest capital in the country, while large parts of southeast Australia are sweltering through the extreme heat with dry, gusty north-westerly winds sending hot air from Central Australia to New South Wales, delivering the searing heat.
Residents of New South Wales have been warned of a rise in ozone pollution and fire dangers as temperatures soar into the mid-40s in parts of the Australian state.
A severe fire danger rating has been issued for the greater Sydney region on Sunday while much of the rest of the state has a "very high" rating.
Total fire bans are in place for Sydney and the Hunter region.
The NSW Rural Fire Service is warning residents to prepare their bushfire plans. If people are considering leaving their homes they should "leave early", the RFS said.
Temperatures are forecast to hit 40degC in Sydney's CBD. In the western suburbs, the mercury will soar to 45degC in Penrith.
Sydney International tennis tournament officials stopped play on the opening day due to extreme heat.
By 10am (local time) the mercury had reached 40. ATP and WTA tour organisers, who will monitor temperatures hourly, opted to send players back to the locker rooms.
NSW Health has warned people to drink plenty of water and limit their time outdoors because of a rise in ozone pollution as a result of the hot, still weather.
Sydney is forecast to have poor air quality on Sunday which can especially affect people with asthma and chronic obstructive pulmonary disease.
"Ozone levels are higher outdoors than indoors, so limiting time outside during the heat of the day and in the evening would help people to keep cool and to limit their exposure to ozone pollution," Environmental health director Dr Ben Scalley said in a statement.
Dr Scalley also warned of the dangers of a heatwave which put strain on the body, can cause dehydration, heat exhaustion and heat stroke.
NSW Police Deputy Commissioner Catherine Burn on Saturday revealed the state's heatwave plan had been activated to ensure a coordinated response from emergency services.
"We know over the next two or three days we're going to experience severe to extreme heat conditions throughout NSW," she said before reminding people it was an offence to leave children or pets in vehicles. Cars become a furnace very, very quickly in this type of heat."
Surf Life Saving NSW has implored people heading to the beach to take care given there have been 10 drownings since the beginning of December.
A 48-year-old is fighting for his life after he was found face down in the water at Sandon Point Beach on Saturday.
In a separate incident, a 35-year-old man was taken to hospital in a stable condition after being pulled semi-conscious from the Hawkesbury River at Lower Portland.
Teen charged with starting Melbourne fire
A teenage girl has been charged with starting a fire that damaged one home and threatened dozens more in Melbourne's southeast.
It took more than 300 firefighters to contain the blaze in Carrum Downs on Saturday, with 50 fire appliances in attendance.
The 15-year-old girl has been charged with intentionally starting a bushfire after the blaze badly damaged a family home on Darnley Dr and put the entire street at risk on Saturday.
The teenager has been bailed to appear before a children's court at a later date, Victoria Police said in a statement.
The fire started in Blue Wren Rise just before 3pm on Saturday, a day authorities had declared a total fire ban as temperatures across the state soared above 40degC.