Powerful Magnitude 7.7 Earthquake hits Indonesia, Tsunami Washes Ashore 3 Meters High!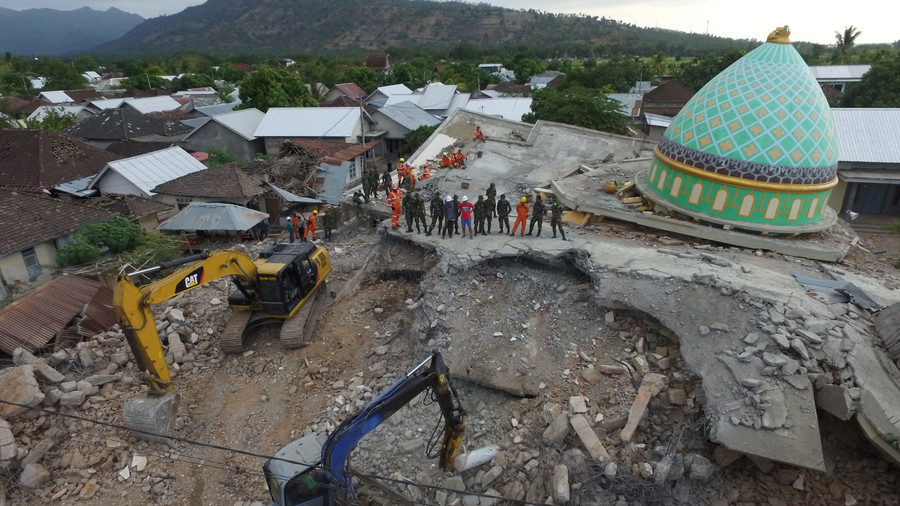 Indonesia's geophysics agency confirmed Friday's Sulawesi earthquake triggered a tsunami, AP and Reuters report. The statement comes after a video emerged online of a huge tsunami hitting a town in the region.
A tsunami of up to two meters hit the Palu region after the quake, but according to local authorities, the waters have receded. No details of possible casualties have been released.
Indonesian disaster agency spokesman Sutopo Purwo Nugroho said the earthquake also caused a tsunami to hit another city, Donggala.
Read more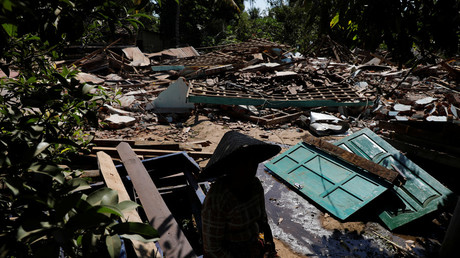 He said in a live TV interview Friday that houses were swept away and families are reported missing. Communications in central Sulawesi are down while darkness is further hampering the search and rescue efforts.
Footage posted online by Twitter user @DianOnno shows an enormous wave sweeping over the beachfront and onto shore at Palu, as people cry out and flee. She says the video was passed to her by a colleague who has been unable to contact their family in the area after receiving the footage from their sister.
In another part of the video, water can be seen crashing towards the Baiturrahman Mosque and the Palu Grand Mall.
The event was also confirmed to
The Jakarta Post
by an official at the Central Sulawesi Museum in Palu.
"Yes, there was a smashing of seawater,"
he said, before the phone connection ended.
Earlier, a 7.7-magnitude quake struck off the coast of Sulawesi island. A tsunami warning was initially issued by the country's meteorological agency, but was lifted a short time later.
It followed a fatal 6.1 magnitude quake earlier Friday, which left one person dead and at least 10 people injured.
Very strong and shallow earthquake registered by the BMKG as M7.7 hit Minahasa, Sulawesi, Indonesia at 10:02 UTC (17:02 local time) on September 28, 2018. The agency is reporting a depth of 10 km (6.2 miles). USGS is reporting M7.5 at a depth of 10 km, EMSC M7.4 at the same depth. Powerful aftershocks are shaking the region. The quake comes just 3 hours after deadly M6.1 hit the same area.
According to the USGS, the epicenter was located 44 km (34 miles) NNE of Donggala, 80 km (50 miles) N of Palu (population 282 431), and 168 km (105 miles) NW of Poso (population 47 110), Indonesia.
A tsunami warning has been issued by the BMKG. The threat is now mostly over.
There are 780 000 people living within 100 km (620 miles).
Some 20 000 people are estimated to have felt severe shaking, 73 000 very strong, 604 000 strong, 1 374 000 moderate, 12 047 000 light and 9 259 000 weak.
The USGS issued a yellow alert for shaking-related fatalities and economic losses. Some casualties and damage are possible and the impact should be relatively localized. Past yellow alerts have required a local or regional level response.
Overall, the population in this region resides in structures that are vulnerable to earthquake shaking, though resistant structures exist. The predominant vulnerable building types are unreinforced brick with concrete floor and precast concrete frame with wall construction.
Recent earthquakes in this area have caused secondary hazards such as tsunamis that might have contributed to losses.
Estimated population exposure to earthquake shaking
Selected cities exposed
Regional seismicity
The USGS registered two M5.8 aftershocks at 10:14 and 10:25, respectively. Both at a depth of 10 km.
Featured image credit: USGS, EMSC
I just opened my watsap grup and This Tsunami seen on Palu, Sulawesi. They recorded this in the top floor of the mall. Our friend's family confirmed this..

#PrayForDonggala

Celebes Sulawesi Indonesia 🙏

pic.twitter.com/vlTmDjCp3h